Features of receiver
1. With antenna, the receiving signal more stable.
2. Firing capacity - each channel could fire 5-6pcs display igniters and 1pcs safety igniter.
3. With "TEST" function. The LED will turns Green when the products are connecting well.
4. Replaceable & Programmable - the broken receiver can be replaced by the other receiver of the same series, there's no need to buy a new transmitter, you could use change the channels as you want.
5.Each channel could fire one talon(consumer) igniters and 5 e-matches in series.
6. With launching lamp. It could light when the transmitter is launching successfully. with launching lamp. It could light when the transmitter is launching successfully.
7. Powered by 4*AA battery.
Features for transmitter (Best seller transmitter)
1. It could divide into 100 districts (control 1200pcs 1 channel receivers at most). Please notice the "district" button in the middle of the transmitter. When you adjust it to "1", it will control the first 12 channels of receivers. When you adjust it to "2", it will run the second 12 channels. You could use the transmitter to control the other districts by the same manner.
2. The fire all and sequential fire function. If you want to fire some receivers together. Please adjust related table ,then press button "Fire All" . All the receivers will fire at the same time; And if you press button "Sequencer", all the receivers in the district will fire sequentially by 0.4 seconds interval. (if you need to change the interval time,please tell us when you place order)
3. Remote range is 500Mts with antenna to make it more stable
4. Waterproof case for protecting the machine from fire or water.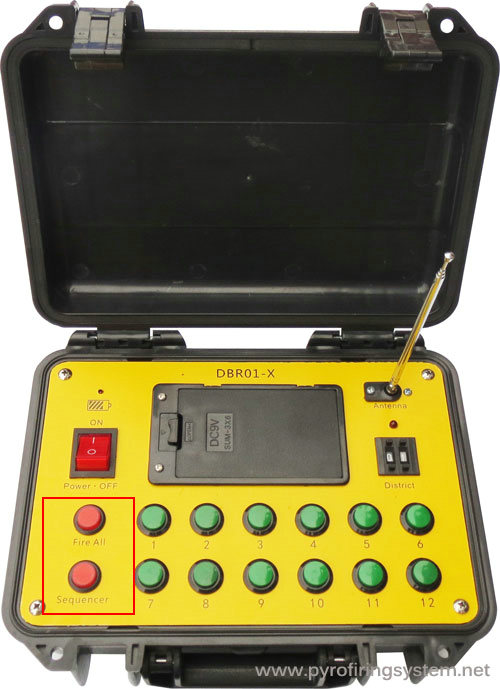 The third generation for 4 cues module- only for happiness firing system